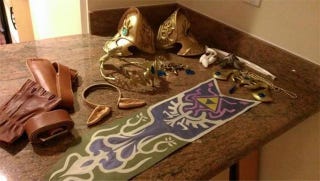 Last week, Jacqueline Goehner's car was broken into while she was visiting a friend's house. Among the stuff stolen was a black duffle bag that had two Zelda outfits inside that she'd done for a commission. They were worth $4000.
The loss of the outfits isn't the end of the job, though. Jacqueline has taken to indiegogo to try and get the funds together to start again from scratch. An initial target of $1200, to cover the cost of stuff like real leather, rings for chainmail, silk, boot-making supplies, resin, silicone, notions and buckles, has already been met, so any further cash will cover the cost of other stuff stolen, like her tools.
You can help out below.
Remake Stolen Link & Zelda Costumes Commission [indiegogo]